Mewo – Seatech cooperation
MEWO S.A. (Subsea Solutions) is the largest private and independent company in Poland, dealing with marine research, geophysics, geotechnics, environmental engineering, and underwater engineering. It provides services and solutions to the offshore energy sectors in the Baltic Sea, the Mediterranean, and the southern North Sea, in the areas of oil and gas, renewable energy, submarine telecommunications, and research.
We are pleased to announce that the MEWO company commissioned us to develop a new research vessel concept.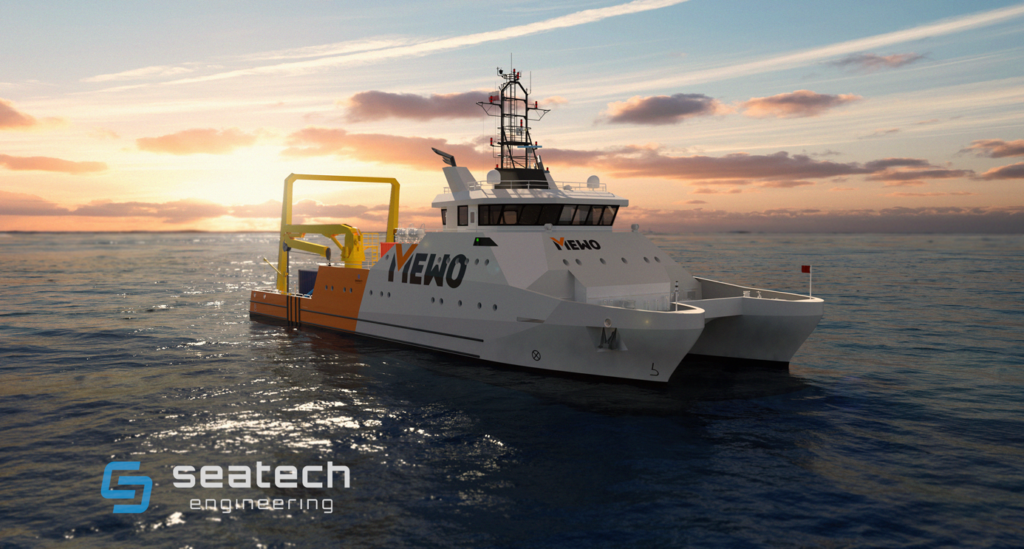 The SE-804 project results from our several months of cooperation, the aim of which was to create an optimal solution for future maritime operations. The 50-meter multi-purpose research catamaran is equipped with:
– DP2,
– 20t A-Frame,
– 3 moonpools,
– wet laboratory and survey room
– comfortable rooms for a 35-person crew
Sixteen meters wide deck and additional davits on the sides allow conducting three scan fish operations with a wide range of geophysical surveys using many devices at once.
Soon we will publish more information about our cooperation between Seatech Engineering and MEWO SA.