Seatech Engineering is celebrating 20th anniversary and has very ambitious plans for upcoming years!
The 20-year history of Seatech office, which designs specialized vessels for the shipbuilding industry, is behind us. It was on October 15, 2003, exactly 20 years ago, when Gerard Jasiński, then acting as the Director of Centromor Ship Office, together with Pascal Piriou, representing French shipyard Chantiers Piriou, founded a company called Seatech Engineering Ltd.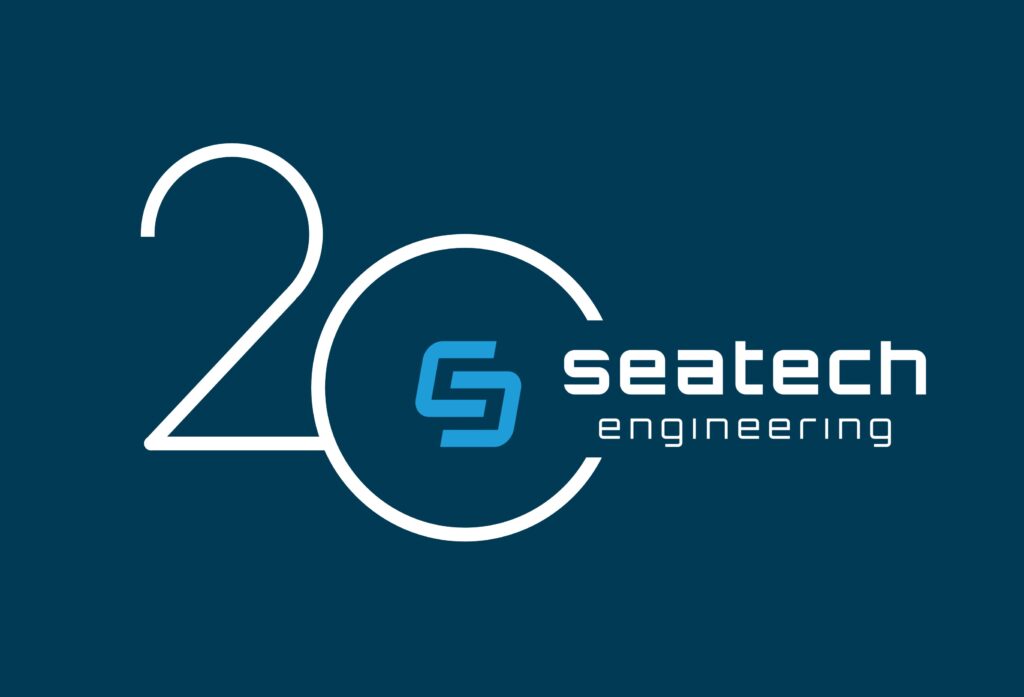 Cooperation between Polish shipbuilding industry and the French market had been carried out by Centromor Ship Office since late 1960s. Cooperation with Piriou shipyard, in Concarneau, Brittany, was established in the mid-1990s. During this period, shipyards carried out number of contracts for Piriou, building partially equipped ship hulls, as well as ship blocks and sections. In addition, Centromor signed contracts for design services, under which some projects were carried out in Poland, and over time more and more by our designers at Piriou shipyard in Concarneau. Cooperation with Centromor was developing. Piriou's demand for production and design services was also growing. Shipyard sought to secure its missing production and design capacity for the future. In 2001, as the director of Centromor Ship Office, I've made a proposal to Piriou to form a joint company with Centromor, which was highly appreciated by our French Partners. However, after long proces of negotiations, analyses and audits, carried out by Price Waterhause Coopers, parties were unable to agree on the shareholding majority and the company was ultimately not established – says Gerard Jasiński, former CEO of Seatech Engineering.

Piriou, however, "did not let go".  At the beginning of 2003, the shipyard made a proposal to me, as an individual, to create a company with an engineering profile in the subject of designing ships and marine facilities, cooperation with shipyards and shipowners (brokerage activity), as well as manufacturing activities in the shipbuilding industry. Centromor agreed on such a solution, and so on October 15, 2003, the notarial deed and the contract of limited liability company Seatech Engineering were signed, with the first office located in Gdańsk, 7 Okopowa St., in premises leased from Centromor S.A. A two-person Board of Directors, Gerard Jasiński and Pascal Piriou, was appointed – continues the former President of Seatech design office.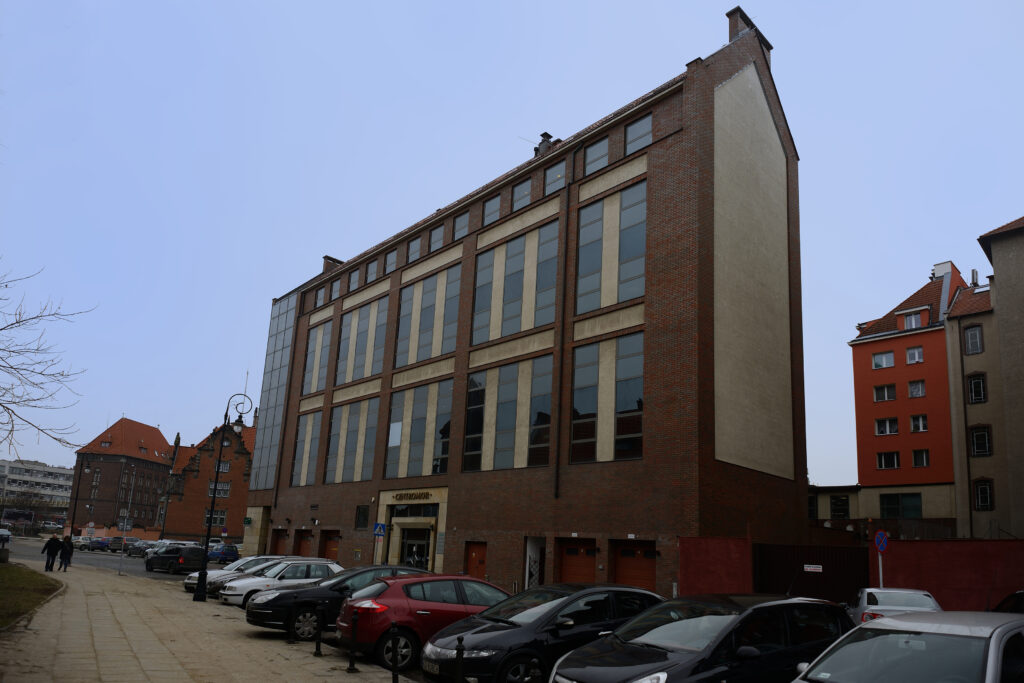 First headquarters of Seatech Engineering design office, 2003
Beginnings of office operations and Polish-French cooperation
Initially, Seatech Engineering office, headquartered in Gdańsk, had only few employees.
After the company was formed, organizational efforts began. Some of the furniture for the start was rented. Computer equipment was successively purchased and networks, necessary for operation, were installed, but most importantly, a not-easy process of building the team began. The first employee hired was Adam Ślipy, who, as a designer, went on a business trip to Piriou shipyard in Concarneau the next day. After 3 months, the company already had 5 designers. First orders for design work were dedicated to contracts in Poland and at the shipyard in France. Seatech's designers went there on business trips but also, due to high demand from Piriou, we've "borrowed" designers of various specialties from other design offices, even from Wrocław – adds Gerard Jasiński.
In its early years, the office focused on fishing vessels' designs, which were the domain of Chantiers Piriou shipyard at the time. Initially, Seatech's engineers and architects mostly carried out ship's classification projects, without entering the scope of workshop documentation. Interesting challenges occured for projects of partially equipped hulls in cooperation with Polish shipyards, such as a series of 3 trawlers according to C262 design in 2004 or two 38-meter tuna vessels dedicated to work in the Mediterranean (C267 and C268). Both projects were carried out in cooperation with CRIST shipyard from Gdynia, and the knowledge and experience gained during the course influenced future orientation of the office activities towards the design of vessels dedicated to tuna fishing.
And so in 2005, in cooperation with then Northern Shipyard, another contract for the construction of three 80-meter long ocean-going tuna vessels according to C270 design was established.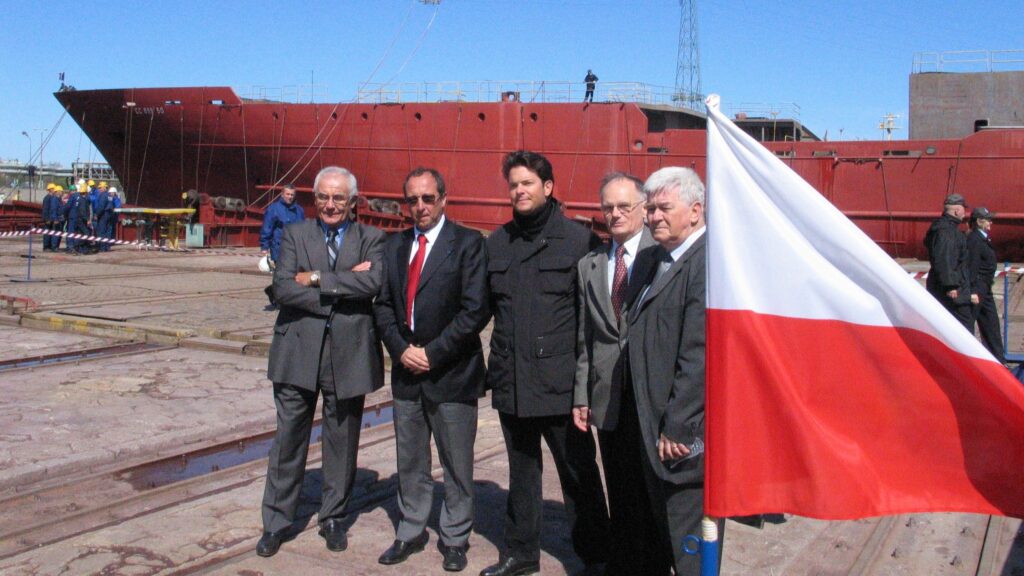 Launching ceremony of tuna vessel according to C270 design, Northern Shipyard, 2006. Pictured Jacques Piriou, then President of Piriou Group, and Gerard Jasiński, then President of Seatech Engineering, along with the representatives of the shipowner – Cobrecaff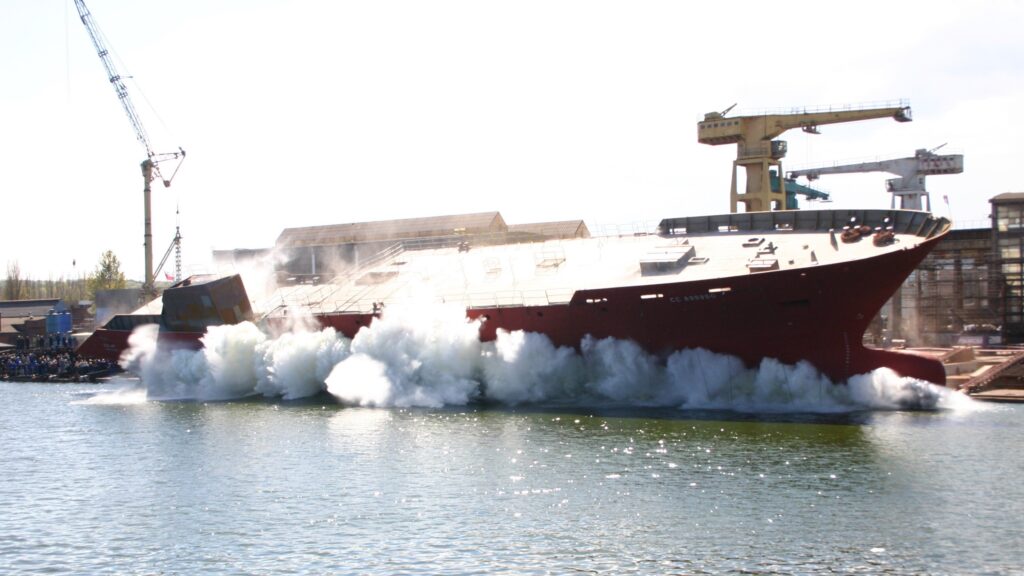 Launching of tuna vessel according to C270 design, 2006
In 2007, Seatech undertook a groundbreaking design of the first 90-meter ocean-going tuna vessel with a deep-freezing system, built by then Ustka shipyard (C289).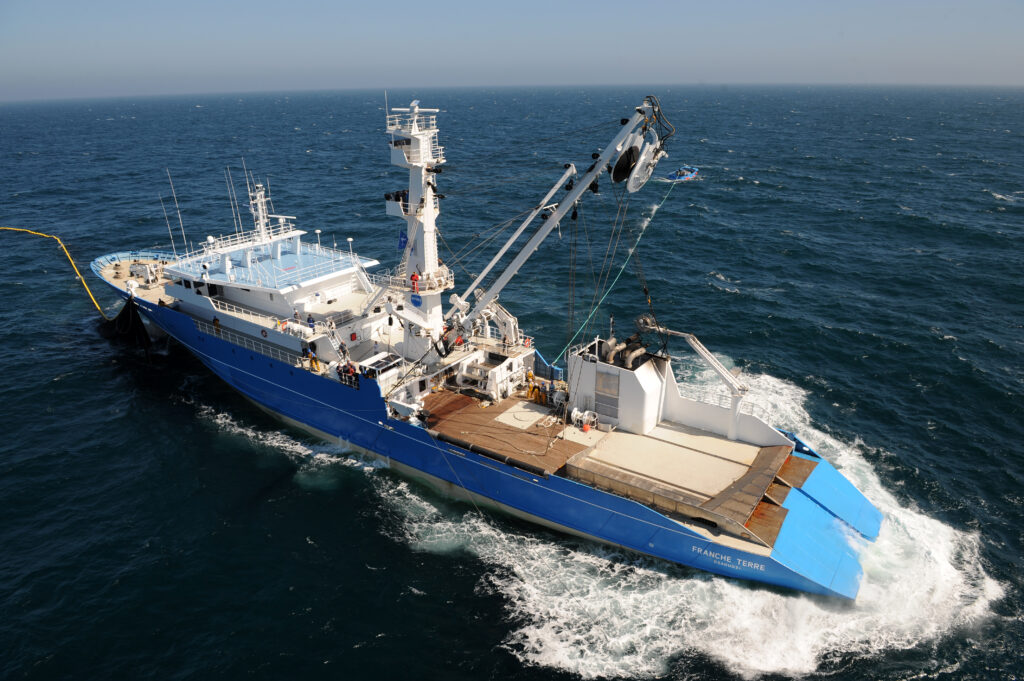 Tuna vessel with deep-freezing system according to C289 design, 2007
Changes in company's structure and scope of projects
Seatech's successes at the time were the result of hard work of both company's Board of Directors and the entire design team. In 2007, the demand for workshop documentation of designed units occured, so company decided to purchase and implement Nupas-Cadmatic (today Cadmatic) 3D modeling software into their design process, on which it continues to work untill now, sharing its experiences and challenges at the annual Cadmatic Users Meeting.
Along with the company's growth, there were changes in the ownership area. In 2008, Adam Ślipy joined company's Board of Directors, and after 2 years took over as CEO of Seatech Engineering.
At Seatech, I felt at home from the beginning, despite the fact that during first years of cooperation I was not a shareholder, but a designer. However, I participated in setting up the office in 2003 and helped hiring our design team back then. I've always liked challenges that go beyond standard project management. That's why in 2008 I was included in company's Board of Directors, and two years later, after the retirement of then-President Gerard Jasiński, I headed the company. Knowing how difficult it is to find contracts with foreign partners (including those who were our shareholders at the time), my main strategic goal was to strengthen Seatech Engineering's position in the local shipbuilding market and become independent of orders from Piriou Group. This was not an easy task, because at that time there were number of small design companies in the market actively working with Polish shipyards. So competition was high – says Adam Ślipy, CEO of Seatech Engineering.

It helped that in 2007 we bet on advanced system solutions under 3D design, which shorten design processes and speed up work, while reducing construction errors – adds current CEO.
In the meantime, the office continued to develope, gaining further experience on slightly different ship projects, including an 80-meter double-ended ferry according to C297 design built by CRIST shipyard, an 85-meter-long dredger done at Maritime shipyard, or a multipurpose barge Arienne 5 to carry rocket propellers in 2009, designed for Europe's largest river shipowner Compagnie Fluviale de Transport (CFT).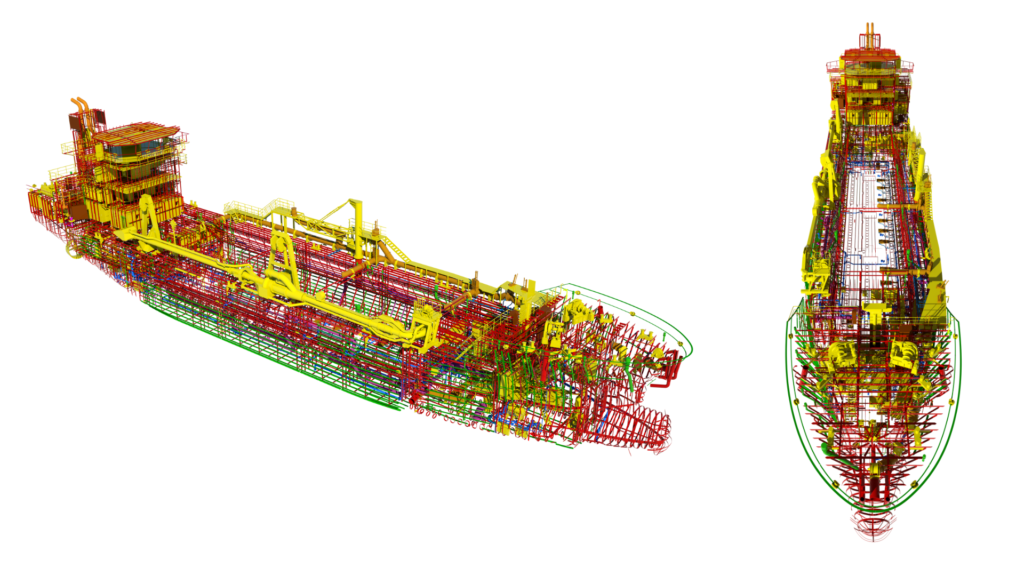 C301 dredger project built at Maritime shipyard, 2008
New markets and ambitious projects
The financial market turmoil of 2008-2010 significantly affected the flow of unit orders and resulted in the acquisition of part of Piriou's shares by the JacCar Group, associated with Bournbon, one of the world's largest offshore shipowners. As a result, Piriou Group opened new shipyards in Vietnam and Nigeria, focused on building high-speed offshore platform support vessels known as FPSVs (Fast Passenger and Supply Vessel).
Seatech Engineering office, in addition to supporting the group in carrying out design work under new direction, has taken steps to win its own individual orders on other markets – mainly local market and Scandinavia. Thus, in 2011 the company signed a contract with CRIST shipyard for design work of a 96-meter seismic vessel. This was the first large ship done outside of the cooperation with Piriou Group, and was a prelude to a series of further ambitious projects.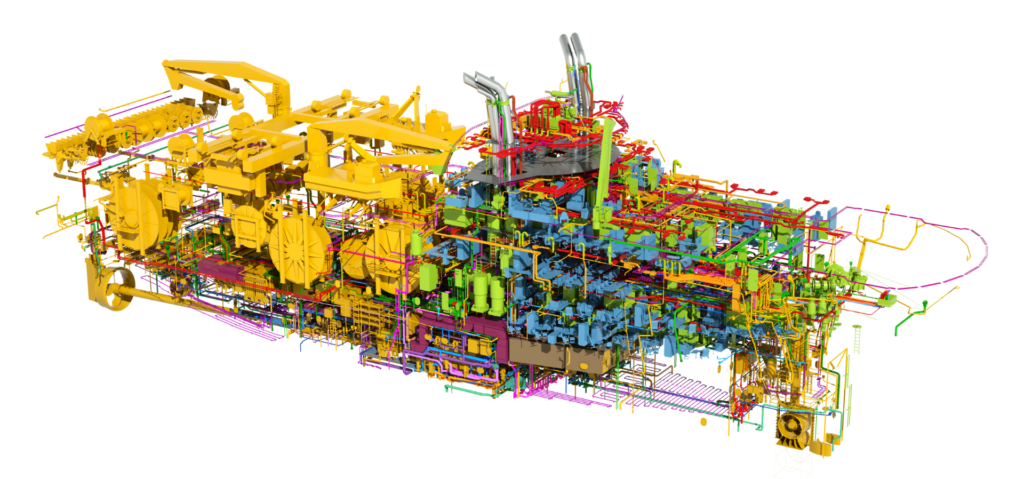 Design of seismic vessel B355 for CRIST shipyard, 2011
In 2012, Mariusz Czajkowski joined Seatech Engineering team in the role of Project Manager and in time became company's Technical Director.
In 2012 I was coming out of a life's twist, and although we didn't have regular contact with Adam Ślipy we knew each other well from our student times, where we had the opportunity to "test each other in the battle". After I've returned from Norway, I made the decision to make changes in my professional career and posted an info online that I was open for new challenges. Unexpectedly, I heard back from Adam. At that point, Seatech was on an upward wave and there was a need for support in managing and administration of increased volume of project work. I jumped at the invitation to work together, and so began my "adventure" with the company – says Mariusz Czajkowski, Vice President of Seatech Engineering.

We succeeded! In 3 years we reduced the share of orders from the Group to 2% of our total annual turnover, which enabled us to become almost completely independent. Further on it was easier – we expended the team, Mariusz Czajkowski joined us and took over project management, and it was possible to concentrate on company's future. Moreover good market position and great project team allowed us to continue quite comfortably – recalls Adam Ślipy.
In the following years, Seatech grew rapidly. The office designed another seismic vessel for CRIST, this time measuring 116 meters, the largest contract in company's 20-year history. In addition, in 2014 the office undertook the design, from scratch, of the first vessel for a Polish shipowner – catamaran Oceanograf for the University of Gdańsk. The ship was designed as a multipurpose scientific and research vessel, prepared to carry out studies of the marine environment including fauna, flora and the seabed. Oceanograf is currently the most modern research vessel under the Polish flag and is one of the key projects in Seatech Engineering's portfolio.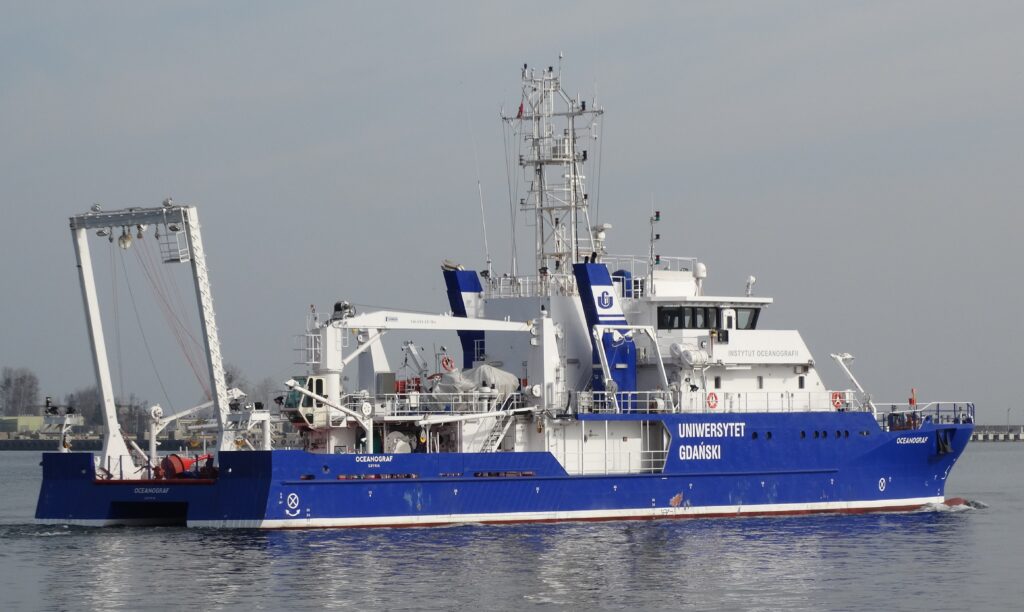 Research vessel Oceanograf
At that time, Seatech was also active on the Scandinavian market, where it completed, among others, a detailed design of caissons for the Forth Crossing Bridge in Scotland in partnership with CRIST shipyard in 2015, and several large passenger vessel projects for shipyards in Finland, done in 2016-2017.
Seatech Engineering in Polish hands
Due to its operations mainly in the oil & gas market, Piriou was significantly affected by the global fuel crisis. The difficult situation in the Group eventually led to the sale process of Seatech Engineering Ltd to its current Board of Directors, which at the time had already pursued a long-standing policy of independence from joint contracts. Thus, in March 2018, Seatech Engineering passed entirely into Polish hands. Some "fresh blood" occured in company's ownership structure – Mariusz Czajkowski joined the Board of Directors.
After being involved in the company's development for several years, there was an important turning point in my cooperation with Seatech Engineering. I was offered to become closely involved with the company and take on some more responsibility. After our then-major shareholder (Piriou Group) decided to divest its shares, an opportunity arose to enter the ownership structure. That was in 2018, when I became a shareholder in the company and at the same time took over the position of Vice President, while continuing to serve as Technical Director – adds Mariusz Czajkowski.
Despite the changes in ownership, the company maintained in the following years, and still maintains, a very good relationship with Piriou Group, which resulted in major joint projects, mainly under state orders from the French market. These included, among others, the C325 transport icebreaker project named Polar Logistic Vessel "l'Astrolab" in 2018, 3 Offshore Patrol Vessel units for the Argentine Navy, a series of twelve 85-meter mine countermeasure vessels for Dutch and Belgian Navies in 2021, and coffee cargo sailing ship projects for TOWT shipowner in 2022.
L'Astrolabe icebreaker, fot. Grupa Piriou (piriou.com)
At the same time, Seatech continued its own design work, gaining further experience in various markets. In 2020, the office, in cooperation with Finland's Elomatic, completed the design of the Icon passenger ship. A year later, another passenger vessel, this time an arctic 125-meter unit, done with CRIST shipyard.
In 2022, Seatech Engineering decided to implement a "Zero Waste Port" R&D project, a dedicated autonomous catamaran for port pollution removal. The project is being implemented by a Polish-Taiwanese consortium, which, on the Polish side, includes also Gdańsk University of Technology. One of Seatech's engineers specialties today are catamaran projects. Not surprisingly, another vessel of this type is currently under construction – a training and service catamaran for mainenance of offshore buoys on the Baltic, implemented for IMGW according to Seatech's own SE-216 design. The vessel will be built at Polish shipyard JABO.
Currently office focuses on projects of medium-sized vessels for maritime industry. The company designs e.g. research vessels, offshore vessels, dredgers, passenger ships and NATO military units. Since years, Seatech has been also specializing in ship and installation designs related to, so-called, Small Scale LNG, having the largest experience and portfolio of such projects for the maritime industry on the Polish market.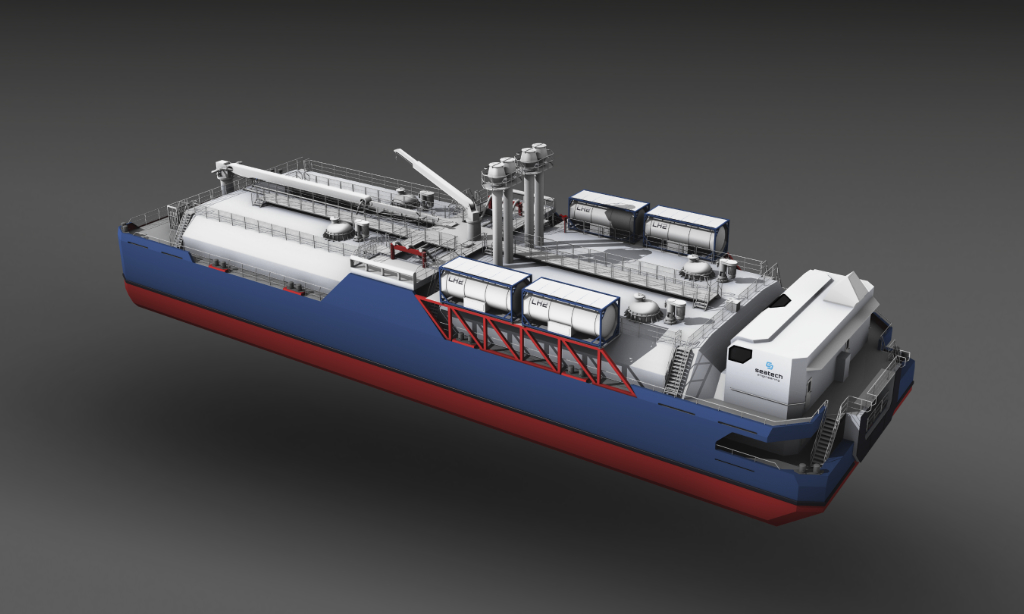 SE-607 LNG bunkering vessel visualisation
In addition, due to dynamic development of offshore wind energy sector, the company is intensifying its activities in the area of CTV and SOV units. This past week, on October 12, Seatech Engineering signed a significant contract with LOTOS Petrobaltic for the design of the first Polish CTV unit dedicated to operate on Polish offshore wind farms on the Baltic Sea.
This is a very important moment not only for us, but also for the entire Polish shipbuilding industry, which has been looking intensively at the development of Polish offshore wind sector for several years now. We, as Seatech, have been working hard and preparing for such contract for more than 4 years. And it should be emphasized that this will be the first design of a new ship for operations on Polish offshore wind farms, for a Polish shipowner, made by a Polish design office. I hope that its construction will also be carried out by a Polish shipyard. That's a lot of "Polishness" as for one statement, but let's face it – we have mentioned the phrase "local content" many times in recent years. We are even more pleased to have won the tender for this design, and we appreciate LOTOS Petrobaltic's trust in our competence – stressed CEO Adam Ślipy after signing the contract, who, together with his entire engineering team, is looking forward to the further development of Seatech Engineering and the years ahead filled with ambitious projects for vessels operating both in Poland and on waters around the world.